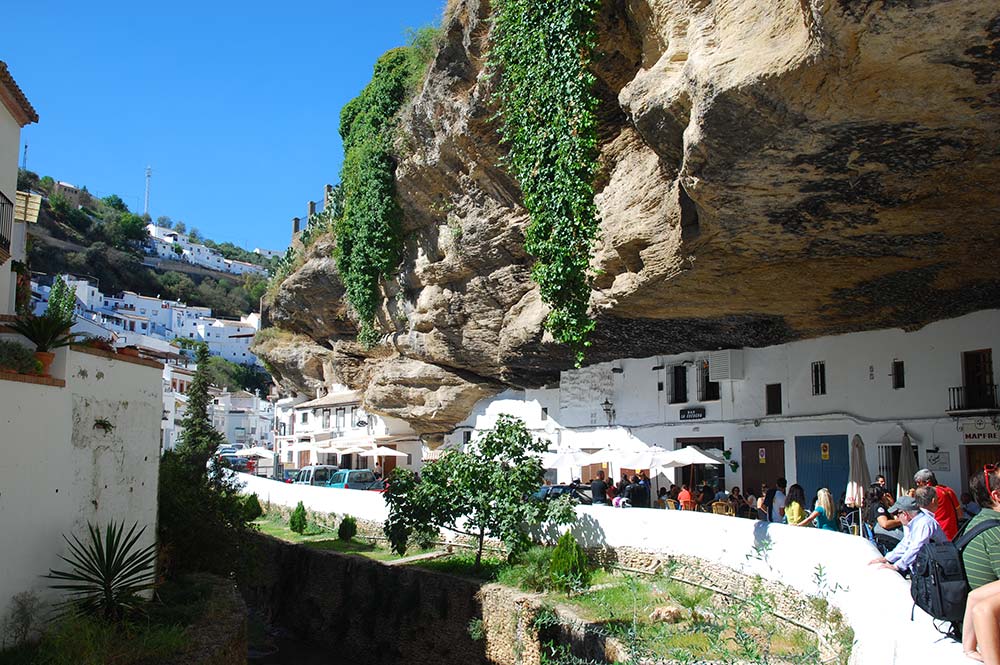 Sensational Setenil (1-day)
An energising day today as we discover local tapas bars and archaeological ruins before descending on our final destination, Setenil de las Bodegas. The central theme of this village is the Rio Trejo that runs its breadth, and over thousands of years the river has formed gorges and caves, from which numerous dwellings have been built. In some places it appears as if the rocks are literally falling into the buildings themselves.
This stunning town also has a reputation for its meat products, particularly chorizo sausage and cerdo (pork) from pigs bred in the surrounding hills. As well as meat, it is known for producing fine pastries, and its bars and restaurants are among the best in the region. We treat ourselves to a late lunch at a local restaurant where you will get to sample some of the local delicacies.
After lunch you will have time to explore this fascinating village before returning to Ronda.
Duration 7 hours / 30kms, includes wine and tapas, lunch and return transfers from Ronda.  The ability to ride a regular bicycle is required for this tour.
Price EUR120 pp*
*minimum 2 people.  Please send us an email if you are travelling solo and we can let you know which dates are available.  If you are booking for 5 or 6 people please contact us as we can suggest an alternative meeting place.
Wine and Tapas at a local tavern
Country roads and archaeological ruins
Time to explore the unique village of Setenil, a village built into rocks.