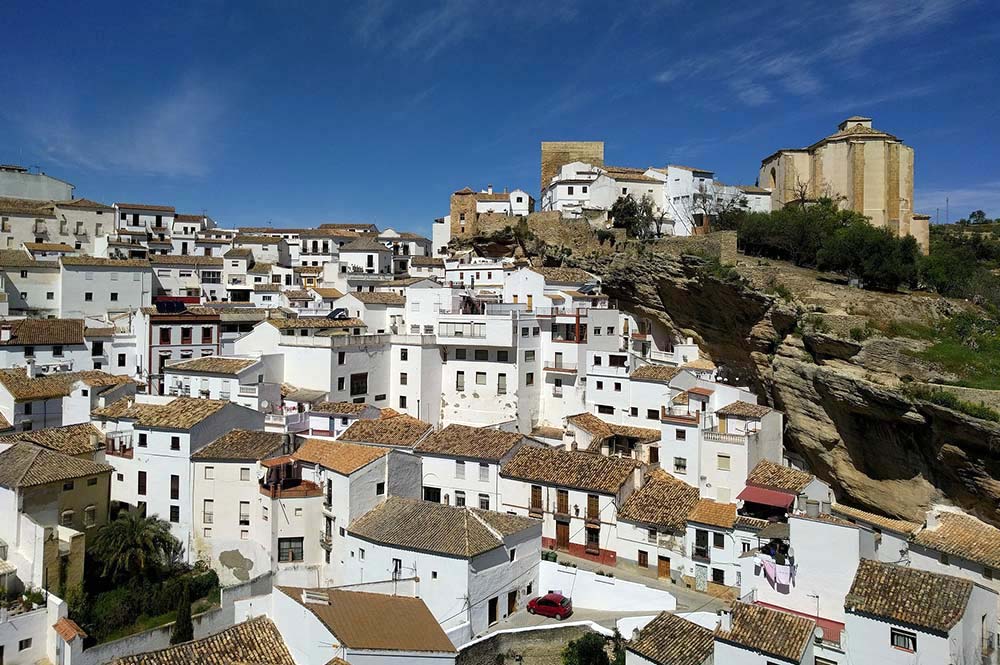 Sensational Setenil and Zahara de la Sierra (2-day)
Day 1 – Sensational Setenil
Setenil de las Bodegas, the picture-perfect village, deserves an overnight stay if time permits.  After a full day of cycling, wine tasting and local tapas you will still have plenty of time to explore this fascinating village in the evening with its houses built below, on top and inside of rocks.
Your accommodation tonight is situated within walking distance of the main street.  You will have lots of time to explore, purchase souvenirs, or simply relax by the pool at your hotel.  Or perhaps take an evening walk as there are some beautiful walks in and around the village.  The most famous of these is to walk the length of the river past the troglodyte dwellings and the various bars and restaurants that line it.  The Iglesia de la Encarnacion built on the top of the hill that overlooks the village is also worth visiting.
Day 2 – Lake Zahara and Olive Oil Tasting
In the morning we meet up after breakfast for a quick brief for today's adventures.  We are transported by vehicle to the edge of Grazalema National Park where we start our cycling around Lake Zahara.
We head off on our ebikes towards the lake, before arriving at the Red Lookout for photo stops, a snack and water breaks.  Our next stop is at a local olive oil farm where we will experience a short tour and olive oil tasting.  After our tasting is complete we head off again around the lake to our final stop which is the stunning village of Zahara de la Sierra.  There's free time to explore Zahara before lunch, and then a glorious descent down the hill before heading back to Ronda by vehicle.
Day 1: Duration 7 hours / 29kms.   Day 2: Duration 6 hours / 20kms. Includes 1 night accommodation twin-share, 1 breakfast, 2 lunches, wine and tapas, olive oil tour and tasting, and return transfers from Ronda.
Price from EUR270 pp (twinshare)
Price EUR380 pp (single)
Wine and Tapas, 4 villages, Archaeological ruins
Easy cycling around stunning Lake Zahara
Olive Oil tour and tasting
Overnight in the unique village of Setenil, a village built into cliffs (L,B,L)